A FULL-SERVICE TEAM
The SHAWN Team (TST) is unlike other teams currently working in the Real Estate industry today. TST is a one-of-a-kind hybrid that blends the benefits of a single agent, a boutique agency, specialty markets, number one brokerage, and the power of team coming together to provide the best option and experience for the real estate client.
Each agent is carefully selected as a member of the team. Every agent has the ability and background of being a successful individual agent, however, they understand the benefit of being part of a team and leveraging the camaraderie and professionalism of TST that allows them to provide a better customer experience to their clients.
TST is a Boutique Agency equivalent. Many clients like working with small local agents. We do too. Our agents are local experts that live and work in the community they represent. Yet, the team also has the leverage and resources of the nation's number one brokerage in Keller Williams. These resources give more exposure to each client that small locally based agencies do not have. This is the best of both worlds for every client.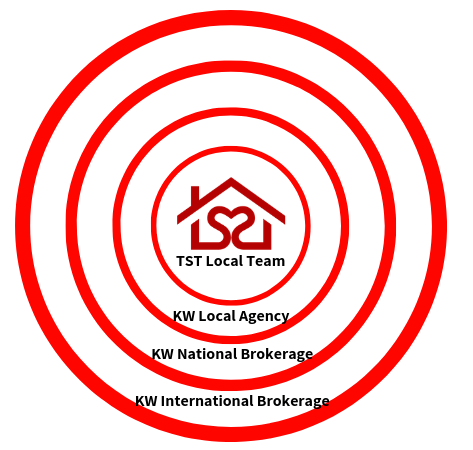 When working with Sellers, each listing has the benefit of being on the local MLS. This in turn is syndicated to the multiple online Real Estate portals such as Zillow, Trulia, Realtor.com and others. Every realtor can do this. In addition to this, TST exposes each listing to fellow team members. Also, they are specifically marketed to other KW agents in the local agency. Keller Williams is usually the top or near the top in gross volume sales or number of transactions in each market. Each listing is also syndicated to the national KW database and to the International database. Keller Williams is the number one brokerage in total agent count. This further gives the highest amount of exposure possibilities for any listing. The success of selling a property is in the ability to get the most exposure to potential buyers as possible.
The SHAWN Team is unique in its "Full-Service Team" approach. The most common of Real Estate sales is the Residential. In addition, there are a few specialty markets such as Luxury, Land and Ranch, and Commercial. Customarily, a client chooses a Realtor that may work within a certain specialty. Or, a Realtor may refer a client to another agent that may specialize in one of the specialty markets.
Our philosophy is in maintaining the valuable client/agent relationship. Clients come to trust their individual agents and want to work with them exclusively. For this reason, our team has specialists in each of the specialties. This way a team member may work with a specialty market team member on any needs that fall outside their own specialty. The client maintains working with the agent they have come to know and trust, and also know they are being properly taken care of as a specialist is also working with them to get the best service possible. It is a win-win for all involved.
Keller Williams has specialty market divisions within the brokerage. These divisions work together to educate and promote each specialty market agent. TST has agents that qualify to be on these specialty divisions which allows for more exposure through national resources in the specialty markets. KW Luxury is specifically for the high-end residential properties. KW Land is for the sale of Ranch and Ag Land. And KW Commercial is for all aspects of Commercial Real Estate.
For certain clients, the expertise of each specialty may come into play. An example: If a client wants to sell their winery. This will need the Land specialist to do the assessment of all that is needed with marketing and evaluating the value of the land. The winery is a business that the Commercial specialist will evaluate the investment opportunity to potential buyers. There may be a Luxury Home on the property so the Luxury specialist will be needed to market to this specialty niche of potential national and international buyers. Excluding one of these specialists may not give the seller the full potential of earnings or the full exposure to each specialty market buyer. With TST, the Full-Service approach assures the seller of the highest possible exposure opportunity available.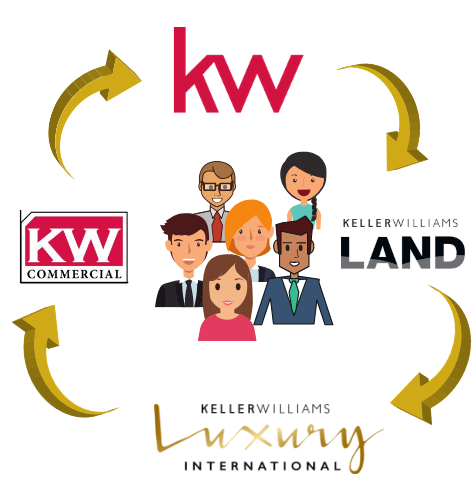 TST has created its own Strategic Marketing Plan. This is not a cookie-cutter plan as each property is different, and so is the marketing approach. The TST Strategic Marketing Plan utilizes a combination of modern digital marketing and traditional marketing techniques that gives the highest of exposure to each listing. TST has on-staff, or in close affiliation with, many Stagers, Photographers, and Videographers that all contribute in giving the best possible appearance of each property for marketing. Each agent works with clients to create a "Story Selling" aspect to every property. Telling the "story" of a property helps to create an emotional attachment to a property beyond the traditional facts of just square feet, number of bedrooms and bathrooms. This approach has proven to bring up to 30% higher selling prices than the traditional fact-based description of properties.
When working with Buyers, each agent has the knowledge of each community and the inventory, pricing, lending, and all other factors needed to find the perfect property for any client. Buying a home is a process of lending approvals, viewing homes, making offers, and organizing the current legal documents to safeguard each client. This is a process and each agent will guide the client through each step of the way and communicate so that it will not be overwhelming and/or intimidating.
If you are considering Buying or Selling any Real Estate, please contact us and let's talk about the benefits of The SHAWN Team and how we can give you a competitive advantage over all others.